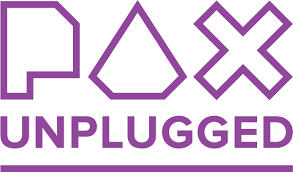 I am back from Pax Unplugged 2018 and I am exhausted. I had a really good time, but my thoughts are a bit of a jumble, so I'm going to try to pin them down.
I intended to attend several panels, but missed every single one that I had scheduled, usually because I was playing something. This is a good reason to miss things, but was a bit of a bummer.
In fact, all of my time was spent either walking the floor or playing games. I discovered in retrospect that there were entire parts of the convention (including the RPG area) because I had no idea they were there, and there was nothing in particular pushing me in that direction.
Since I didn't see the actual RPG focused area, I put a pin in my sense that this is not a great RPG con. It's got G.O.D. and stuff, so it's not like it's not an RPG con, but my experience was generally so crowded and loud that while playing boardgames was fine, I suspect I would go insane trying to roleplay. But it's possible there's some secret sauce I missed out on.
This was a terrible con for seeing and talking to people. I imagine it's better for the folks who have the leeway to do late night hanging out, but during the day there is such a press of humanity in constant motion that the prospect of stopping to talk is daunting. Meals offer no respite in this – while not as bad as last year, you need to go some distance (or be willing to pay more) to find a usable social space.
There were some obvious improvements from last year: the aisles in the dealer hall were numbered, for one thing, and there was even more space to play. It felt like they kept pace with the growth, which is good, but I'm not sure it made for an overall improvement. There's still a lot of cattle call to it, though.
It remains a line culture con. I do not criticize that, but I do need to make my peace with it.
It took a while to find the boardgame library, because the play area was so large, and we never ended up using it because we had games and it was constantly swamped. That maybe sounds like a complaint, but it's not – there was a HUGE play area which was constantly at capacity with a constantly churning game library. There was SO MUCH PLAY. It was beautiful.
This may seem weird, but I kind of feel like I could have skipped Saturday. Friday was busy, but there was some NEW STUFF energy that was fun. Sunday was also busy, but less so, and it meant that there was actually time and space to get demos and try things out that had not really been an option. But Saturday was all knife fight. Walking the floor was slow and overcrowded, and finding any workable space was a chore. Thinking towards the future, I may see what I can do to route around it.
This is the second year of the con and the second year I brought my son. I am pretty sure that some of my experience was skewed by this – I probably would have seen more people if I was solo, for example, because I would have had a little more flex (and have been out later). He had an awesome time, but at least part of that is because my wife took him to The Franklin Institute for a big chunk of Saturday, sparing him the worst of the overstimulation. I honestly am not sure how good an idea this is as a kids con – people are great and he had a great time, but the sheer press of people worries me a bit.
I was fairly restrained in my purchases until the final floor walk on Sunday, when the combination of "we don't want to take this home" sales and my son making big eyes for robot-fighting games demolished my resolve.
It was a good time. No question. And I have every intention of going again next year. But I fully concede that a big part of the decision is the fact that it's just over two hours from home, which makes travel inexpensive and easy. If it were farther away, I'm not sure it would be worth the trip. But it's also possible that once I'm past this initial wave of exhaustion, I'll feel much better about it.