Ok, you've decided you want a backpack. I'm not going to worry about how you came to this conclusion (though I have opinions) , but  whatever your reasons, your back thanks you.
I'm going to broadly assume that this is a backpack for day to day use. Maybe you need to tote your computer and papers too and from work. Maybe you need to haul your gear to the coffee shop. Whatever the case, we're not talking about hiking or other specialized uses here. Even if you need it for a specific case (like a bag for a trip of convention) you're mostly talking about something the cool kids would call and EDC ("Everyday Carry") bag.
IF YOU REALLY DON"T CARE then let's cut to the chase:
Got to ebags and search around til you find something cool. Their filtering tools are awesome.
Check if it's cheaper on Amazon.
Order
If you do care, then please continue.
When you pick a bag, there are five things you want to think about: Cost, Utility, Durability, Comfort and Fashion.
We'll talk more about cost in a little bit, but this is probably the easiest one to judge: Is the backpack within your budget? If yes, then the cost is fine. Easy peasy.
Utility is all the factors that make the backpack useful to you, which in turns depends upon what you want to carry in it. If you just need to carry your laptop, some cables and maybe a notebook and pencil, you need a much smaller backpack than the one you're going to haul all of your D&D books around in. Stop and look about what you actually carry now. Take the opportunity to decide if there's any dead weight you could trim, but also make sure to capture things you might regret the absence of (like power cables). When you look at a bag, think about where those things are going to go. A few items to consider for the utility of your bag:
When in doubt, be wary of too many pouches and pockets. Some amount of organization in a backpack can be useful, but too much and you end up wasting a lot of space, both for the pockets and for all the things that don't fit them exactly. Better to get a bag with large compartments, then divide it yourself with sub-bags. There are reams of bags available for this use, but for my money there are few things as useful as a 6 dollar zipper bag, the kind banks used to use – You can get them on Amazon, no problem. Toss your pens or cables into one or two of those, and any bag becomes organized.
Pay attention to how the bag closes and opens. There is a tendency among fancier bags to use buckles or funky hooks because they look great, but they are usually a pain, Often they require two hands to operate, or require you to hold the pack just so. That may seem like a minor thing, but the hundredth time you fish something out of your bag, you'll notice.
Also pay attention to how you'll carry it. Obviously, you'll use the shoulder straps a lot of the time, but when you set it down and pick it up, it's very useful to have some other strap or handle on top of the bag that you can easily grab to haul it around.
Most bags will have a laptop sleeve, and that's great, but they're not necessarily created equal. First, make sure you can get to it reasonably easily. Some backpacks (especially TSA compliant ones) require unzipping a LOT to just get at your laptop. Be careful of that. Second, check the bottom of the laptop sleeve: if it is flush with the bottom of the pack, you're more likely to damage the laptop when you drop it. If the bottom is separate, that space buys you a little bit more protection.
Regarding TSA compliance – it is not worth having a crappy bag to make your trip through the X-ray fractionally easier.  If that is an issue, consider investing in a laptop sleeve and just pulling your computer out fo the bag.
Very few bags are truly waterproof, though they may offer varying degrees of water resistance. Look at the zippers, closures and materials to get a sense of how comfortable you'd be out in the rain with it. If you're worried, but you like your pack, consider a backpack cover. It's effectively a poncho for your backpack – inexpensive and easy to pack.
Durability is a hard one to judge if you're buying online (and you probably are). Some brands, like GoRuck or Redoxx build their reputation on their durability, but that is baked into the price tag. Rather than worry about this too much, pay attention to how the brand of the bag handles returns. Many bag makers will stand behind their product 100%, no questions asked, and you want that confidence. Not only is is an indicator in their faith in their product, it is a safety net for you.
But that said, don't just read the blurb. Go do their website and start doing a return – you'll quickly see which bag makers really want to help you and which ones make it a pain in the ass.1
Comfort is also tricky online. The best backpack in the world is still going to suck if it pinches your neck. A good return policy can help with that, but there's no substitute for actually going into a store and walking around. If you go to an outdoor store, like REI or EMS, they will have weights (usually over by the climbing or hiking gear) that you can stuff into the backpack to simulate a full load. Otherwise, just bring your own load (books are great for this), fill it up and walk around for a while. Places that know their business are either used to this or don't care. If they do care, that's not a place to spend your money.
Fashion probably made a few few folks sneer or shrug, especially the guys, but this is a thing. The backpack is a very visible thing that you'll be carrying a lot, and like it or not, it conveys a message about you. What more, you probably have an image of yourself – a writer in a cafe, a business professional, Indiana Jones – that you may want the bag to align with. The two mains axes for fashion are material and ornamentation.
For materials, most bags will be nylon, canvas, cloth or leather. Nylon is the most utilitarian (it's durable can be used in many ways) but since it's the default, it's easy to dismiss as uninteresting. That's unfair in some cases, but I must concede Nylon is the choice you make when you don't care.
Canvas usually looks much nicer than nylon, but it's much less reliable as a material. There is very good canvas, but also very cheap canvas, and it can be very hard to tell the difference just by looking. Waterproofing is an especially pernicious question for canvas. Be explicitly warned – there are a lot of really nice looking, really cheap canvas bags coming out of China these days, and their durability is in line with their price.
Cloth is something of an oddball – often it's just a shell wrapped around a nylon core, so it's entirely a function of appearance. But sometimes the whole bag is really made out of wool (or "smartwool") or something, and that can be a little weird. If you like it, awesome, but just make sure to look closely and be confident it will hold up to wear and tear.
Leather is, of course, the deluxe option. It can look nice, feel nice, and hold up very well. But it's expensive, and it often offers less modern design than other material (because you can shape and pad nylon shoulder straps, not so much with leather). If you want leather, nothing else will do, but be skeptical and demanding. Cheap (or fake) leather will take your money and leave you weeping as your beautiful backpack falls apart.
Ornamentation is simpler, and can be summed up with these two images: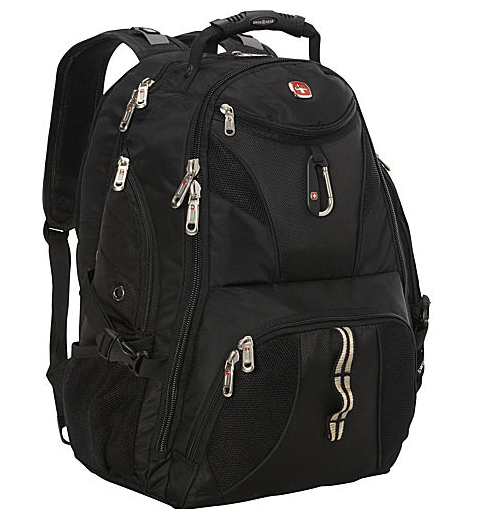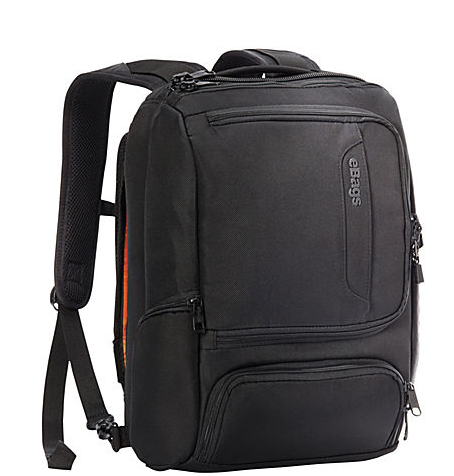 Both are nylon business backpacks, but they have very different external styles. Both are fine, but be cognizant of what you want.
One particular style you'll see a lot are molle straps. These have many practical benefits because they are designed to let you attach things to your pack. It's a module design with military roots that is super popular with people who like to use the word "tactical" in their fashion discussions. I won't say to avoid these – they make great pen loops – but be aware that they read as "military enthusiast" for good or ill.
---
Ok, with all those details out of the way, let's talk about actually buying the bag. The earlier advice about just going to ebags and poking around still stands. It's an amazing site, and you can probably find what you need there.
That said, let's talk about cost.
Budget ($50 and under)
If you are one a tight budget, less than $50, your choices are limited, but there are more than you might think. In this space, the Jansport (yes, that Jansport) brand and the ebags house brand offer a number of very nice, very practical packs. High Sierra and Swiss Gear also make some packs in this space, and they're good, but I don't trust them quite enough.
If you really want quirky style on a limited budget, then Herschel Supplyhas a number of nice options. They're very bare bones, but they're solid canvas bags without the risk of Chinese knockoffs. Look for them on ebags or amazon – they're cheaper than the main site. Also, keep an eye on the bags sales – sometimes they can be amazing.
The last option is to shop secondhand. This can be a roll of the dice, but if you familiarize yourself with the better brands, you can often find them very cheap secondhand. Be very leery of packs whose brands you don't recognize, but attentive for the brands that you know stand behind their product. They will frequently fix or replace them no matter the source.
Intermediate (up to around $100-120)
This is the sweet spot for most people, and absolutely the space I'd recommend for the best balance of price and quality. It's also the space where you're going to find more options than you can possibly get your head around, so I'm just going to suggest a few brands with comments.
Fancy Pants (Up to the $300s)
Ok, fess up – if you're buying a bag in this price range, you're a bag nerd. This is a really interesting range because it's the very bottom of the fashion price range (Tumi has some lovely packs that start at around $400) but it's the sweet spot for utility packs. These tend towards the extremes of design or durability (or both) and tend to be produced by smaller, somewhat fanatic, companies in America. Again, a few brands worth looking at:
Super Fancy Pants (Everything Else)
Ok, at this point we are outside of my area of expertise. Not even going to try. Suggestions welcome.
---
So, hopefully that's a useful starting point.  I suspect that folks might have opinions, so feell fee to add em in the comments!
You can also mitigate this risk by buying from a retailer like REI who will stand behind the product even if the manufacturer drops the ball. ↩︎