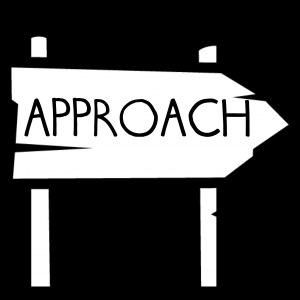 Right before Metatopia, I finally got my hands around the element of Fate Accelerated that I kept stumbling over in the approached, and in retrospect, it's super obvious. The problem, historically, is that it's super easy to spam your best approach, especially with approaches like "clever" and that generally there's a disconnect between how the various approaches feel in play. I've previously floated Fae 2 as a solution, and it still works, but I'm still digging into the underlying problem.
For those who need to look it up, the approaches are Quick, Clever, Forceful, Flashy, Careful and Sneaky. In an ideal world, they act as adverbs, describing a character's action, and coloring the outcome, and as such, it doesn't matter much if a particular approach is used a lot – it just means that action will skew in that particular way, which is fine. The problem is that this only works if all of the approaches are equally applicable, limited only by player creativity.
But they aren't, because some of these adverbs are also their own verbs, especially when you need to move quickly, sneak, or smash something. That is, certain approaches have implicit actions which are very difficult to decouple from the approach, and that's a real problem when the character is trying to sneak carefully or quickly.
FAE2 offers one solution to this – let the player choose one approach and the GM pick the other, then add them up – and it works fine, but requires retuning difficulties a little. You could also modify FAE2 so the player simply picks both, and that works fine.
But what we've been trying a little is "Choose as many approaches as you want (practically caps at 3)" and roll the lowest. At first blush, this may feel punitive, but remember that FAE difficulties are skewed in such a way that even a +1 is pretty useful. And the tradeoff for the reduced bonus is much greater latitude in capable action – ut is very difficult to describe a character action, however convoluted, that can't be thrown into the bucket of two or three approaches.
It also makes certain things pop. When a character can apply an unqualified +3, that feels like they're getting spotlight. When a character is forced to roll a +0, it feels like that really is a shortcoming (without a lot of mechanical pain). It works pretty well.
Now, the counterargument is that we've largely been doing this with It's Not My Fault and the random nature of character creation may make players more forgiving of this. Jury is still out, but we keep experimenting.
I also considered giving each Approach an implicit action, so that fine manipulation was always careful, and social manipulation was always flashy and so on. After some thought, it seemed clear that this was kind of backwards thinking, but it was useful for fleshing out my own thinking about what the Approaches mean. I don't need a rule saying that flashy is manipulation, but having an understanding of flashy that says it encompasses influence, not just ostentatious display, makes it a little more clear to me when Flashy is appropriate. Clever? Does the action have multiple moving parts? That's a good flag for clever. Careful? Consider that it encompasses patience and timing, and that's a lot of action.
Practically, it's important to get to the point where you can see why each Approach could be awesome. Without that, they seem lumpy and imbalanced, but with that understanding, then it becomes a firehose of action an excitement.