In the last session of our Blades in the Dark online game, Shadow had come out of Ironhook with an interest in the oddly tattooed "octopus gang" that had hassled him there. Jacob of the Ink Rakes had agreed to provide some information in return for helping with a "little problem", which they did (also helping out the booksellers of Nightmarket and securing their "informants" holding) and as a result tonight kicked off with the payoff from Jacob.
Jacob didn't know a lot. They had picked up the nickname "The Eights", though whether that was a play on words or a reference to their octopus tattoos was not entirely clear. They were a lot like other cults in the city – a little dangerous, a little crazy, mostly kept to themselves, recruited among the truly desperate and so on. They were unwelcome around the Docks, but not excessively so. But a few weeks back, they'd all vanished. Word was they had set up shop in Bonfire (the Iruvian neighborhood in Nightmarket).
Jacob also tried to get them to carry some of his magazines in their bookstore, but the Bonfire news was of most interest to the crew.
A bit about Bonfire: The Iruvian neighborhood in Nightmarket is one of the largest foreign districts in Duskvol (rivaled but it's Severosi neighbor, Horsehoe). It's name derives from two sources – the first is that it is probably the most warmly lit neighborhood in Duskvol, as there are constantly fires of every type burning, kept ablaze by a combination of nostalgia and tradition by those who no longer feel the warmth of the sacred flame. The second is that this fondness for fire means that there have been more large scale fires in this neighborhood than anywhere else in the city, and as a result it's even more of a built-and-rebuilt warren than normal. The Red Sashes have a presence there (though they have not yet really conflicted with the crew) and one of the crew members – Thorn – is a member of the community of…peculiar standing.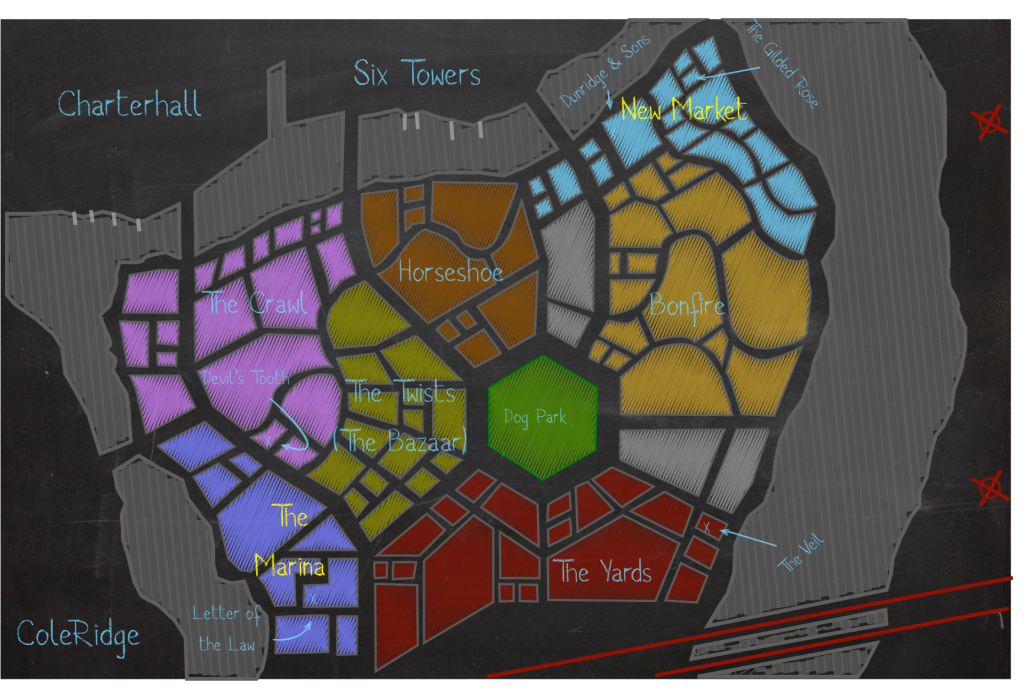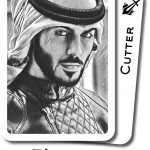 The crew members hit the street to find out more about what was going on. Shadow's bluecoat contacts had little to offer, and while the Archimandrite gave Thorn some interesting information about the Cult's symbol (it had been used by a cult squelched by the Spirit Wardens a century before) he had little to offer in terms of current events. He did, however, make a passing remark about a lack of ghost problems in Bonfire of late.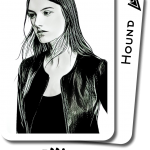 Ellis skipped the middleman and simply started beating the streets and found the cult's hideout without too much hassle. It was a fire ravaged building that was too damaged for use but too intact to be easily demolished, surrounded by buildings in similar or worse shape. There were signs they'd put in some defenses on the lower floors, and that there had been a fight recently, but she couldn't get much close to check.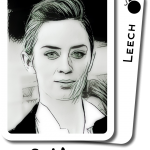 Spider ended up finding out the most, partly through my bad memory. Her positive contact is Jul, a blood dealer. We had kind of wondered what that meant, and at some point in the past I'd decided that it means leviathan blood, but I entirely forgot about that, and just as well. Spider was mostly reaching out because Jul was Iruvian, but it worked out well. See, Jul runs an opium den where the drugs are cheap and the snacks are plentiful because the real price is the pint of blood that users leave behind, which is in turn mixed and provided for the customers in the back room, who are never acknowledged as being there, and who are largely Iruvian Vampires.
Another sidebar: Iruvian Vampires is, on its surface, a paradox. The sacred flame in U'Duasha consumes all ghosts created within the city, so you don't get certain problems down there that you get in Duskvol. However, there is a small but robust ghost-smuggling business for the very rich and powerful of Iruvia who are near the ends of their life and would rather continue as a ghost rather than risk whatever fate awaits them I'm the flame. At no small cost, their ghosts may get bound, transported elsewhere (most often Duskvol) and released. At greater cost, further arrangements may be made. The Iruvian vampires of Duskvol are an association of those who have paid this greater cost, and in many ways they are very much the iconic image of elite, powerful vampires hiding in the shadows. This is all fairly secret (for good reason) but the crew is tied into this sort of action.
Jul knows a bit about the cult, enough to dislike them, and it comes out that the reason for this is that they make his clients (with a glance towards the back room) nervous. Spider tries a consort roll to get an introduction to a Vampire, and succeeds, but he owes Jul a favor as a result. Jul agrees to speak to his clients, but sends Spider home while he makes arrangements.
The vampire who arrives at The Letter of the Law is a surprisingly young looking Iruvian man who seems utterly delighted at the theatricality of the secret back room. He introduces himself as Lor Ankhuset1, and is delighted to meet them. Negotiations follow, and the Vampire is willing to share what he knows in return for three favors to be named later.
Surely no problems will emerge from that.
The vampire revealed three things:
The eights and the red sashes had clashed earlier. Smart money would have been on the Red Sashes, but something happened inside the Eight's HQ which lead to a drastic reversal.
The eights were spending clean money – that is, they had fresh-pressed silver. The subtext is that they had some manner of sponsor, someone rich enough to have access to the money, and highly enough placed to not even realize why that would be a problem.
Most critically, there were now no ghosts in Bonfire. Lor could not explain why or how, but they had started vanishing shortly after the Eights set up residence, and the Vampires were starting to get very nervous because things felt wrong to them. The Spirit Wardens would probably be very interested in this if they found out, but since this had actually meant less work for them, they hadn't noticed that in the way they would have an uptick.
So, this was pretty clearly bad, but it was hard to say how. Spider confirmed the absence of ghosts personally, and even went to far as to find another ghost and bring them there, only to watch it get sucked away towards the Eights' headquarters. Spider was intrigued enough to try attuning to the ghost field to see what was going on, which proved a not great idea as something tried to pull her soul right out of her body2. She kept it together, and got a sense of a beacon or vortex pulling things from the direction of the Eights, but she couldn't get much closer and still keep control.
The crew did not fully understand what was going on, but agreed that it was almost certainly bad enough to merit drastic response. Discussion of bodies hitting the floor was had, and agreed upon. They would seed the building with incendiaries and the foundations with explosives. Ideally hey could flush out the cult before falling back on mass destruction, but it pays to be sure3.
Which is, of course, where things started going very, very wrong.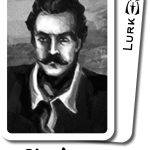 The crew split up, with Thorn and Spider heading for the sewers and Ellis and Shadow coming from the roof. The engagement roll came up a 3, so I decided that they were going to end up out of sync – a dangerous proposition when dealing with the kind of ordinance they were toting. The path through the sewers was not what they expected it to be, with numerous collapsed or blocked sections forcing a roundabout route. Meanwhile, Shadow entered through the roof, with Ellis in overwatch, and promptly went deeper into the building than was wise (because Reckless). A mixed prowl result let him place his last charge before he was set upon by a cleaver-wielding hull, and avoided getting split open by virtue of an excellent resistance roll and convenient armor4.
Cut back to the sewers, where Thorn & Spider are setting charges. Now, Spider has the Saboteur move, as well as three dots of wreck, so I extend a lot of narrative leeway here, and I'm expecting no real trouble here, esp since Thorn is helping. On a mixed result, I'd be leaning on the time disconnect to create inconveneice, but I'm ready for whatever. At which point Spider's dice betray her, and we get nothing but 3s and 2s.
So, GM hat time. They're working with explosives, and that is an obvious oh shit roll, and it would be entirely inappropriate for me to ignore that. However, it had only been a risky roll, so it would be a bit of a jerk move to go straight to the kind of consequences this would require, so I gave them an opportunity. As the bombs started flashing, they had the opportunity to make a desperate prowl roll to try to get the hell clear.
Thorn got a mixed result and Spider's dice failed again.
Thorn was easy to adjudicate – he was looking at 3 harm as the explosion threw him into something hard, but he managed to buy that down through a combination of armor and resistance. Spider was a bit more of a challenge.
See, confession, I like to push hard on certain issues as a GM, but I have never been a "killer GM". In my philosophy of play, character death is frequently and indicator of GM failure. So my first instinct was to offer some kind of sop – have Spider get trapped or something similar – but that was not a good instinct. It did not respect the situation. So I took a deep breath and ignored my internal protest and declared "Level 4 Harm", which is to say, a lethal result.
This was not the end of it. Spider had the opportunity to resist, and like the rest of her crew, had armor, and she actually had a decent reserve of Stress, so the odds were actually not that bad. It is, in fact, one of the nice things about Blades – as a GM I can push the hard, and it's the start of the conversation, not the end.
Spider's luck reversed, and she crushed the resistance roll with a crit5, but she and Thorn were separated. Meanwhile, Shadow was making a desperate prowl roll to dive out the window and escape the Hull. He critted that roll sufficiently hard that it absolutely demanded that he be diving out as the explosion rolled up through the building.
As Ellis watched this all, appalled, I turned to her and remarked "There is no way anyone in that building survived, but the bell is not ringing." This brought a wave of consternation to the table, that only grew as I described that the fire was not diminishing, but rather slowly changing color towards blue, and resolving into a towering column of flame which was now drawing attention from…well, everywhere.
This was the get out of dodge moment, and the crew fell back to Sha's Noodles, their rendezvous point. The fire was still burning, and the Spirit Wardens and Bluecoats were cordoning it off, but it was showing no signs of diminishing. What's more, Thorn was finding that it caused his ghost-killing tattoos to flare up (though this fire felt cold and hungry, unlike the warmth of the true sacred flame), and Shadow determined that it was now drawing in ghosts from an even wider radius, perhaps even the entire city.
And that's where we left off.
We resolved the job. No coin, 2 Rep, 6 heat. I could arguably have gone with 8 heat, because bodies dropped, but I consider that +2 to come from the bells and crows and extra attention over and above what's happened in the job, and in this case, that seemed well folded into the 6. For the entanglement, we got Show of Force/Demonic Notice and both are so magnificently appropriate that I'm not sure which I'll be kicking the next session off with.
Curiously, while things have utterly gone to hell, the crew is in decent shape. They'd been keeping their heat squeaky clean, so they could take this hit, and there had been decent margin for stress at the beginning of the night. However, the circumstances are dire enough that I am not sure there's actually going to be any opportunity for downtime before we pick up again. If so, that 6 heat is going to be a Damoclean sword hanging over the group, and I'm kind of curious to see how that goes.
Good session all in all. Slow start, but the Vampire is going to absolutely drive some future fun even after the current problems die down, and I am 100% OK with that ending, though it was definitely not something I saw coming.