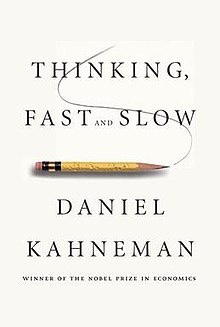 Ok, I have a new theory of crunch.
Kahneman & Tversky did a whole lot of super smart writing about how we think, and one of the takeaways is that we have two main modes of thinking, system 1 and system 2. There's a great book on this (Thinking Fast And Slow) that sold a ton of copies, and some Nobel prizes floating around, so this is a pretty commonly known model, not some weird fringe thing, so bear with me a moment.
System 1 is Fast, automatic and intuitive. It's what we use most of the time to just function in the world to walk, talk and generally interact. System 2 is slower and used for reason and analytics. Our thinking is generally dominated by system 1, but we engage system 2 when we're forced to by circumstances, such as high stakes situations or problems that we lack heuristics for.
The part that is weird about this is that system 1 is really capable. It's easy to imagine it as just sort of dumb autonomic stuff, but the reality is that it can do a LOT, and it's super good at creating narratives to make everything around you make sense. System 2 is what we tend to think of as thinking, but it kicks in less often than we think.
Lots of implications to this and stuff that's way smarter than anything I have to say, but I was thinking about it recently and considering the prospect that a lot of the System 1 stuff sounds similar to what some people enjoy about gaming (flow, creating narrative and so on) and that when they talk about the game just "getting out of the way" that seem consistent with the game being a system 1 operation. On the other hand, there are plenty of games and players where the enjoyment seems to be explicitly in engaging system 2 (for complicated problem solving and so on).
And I think that has given me a new handle to think about what "crunch" means – it's system 2 play.
This feels very satisfying to me because it embraces the fact that there is no bright line distinguishing crunch from the alternative – rather, it is a function of comfort and familiarity. If you learn a system well enough for it to require less thought (allowing System 1 to do the lifting) then you stop needing system 2 for it, and it stops being crunchy.
It also makes it make a little bit more sense, because some people enjoy system 1 play, but not system 2. Some enjoy system 2 but not system 1. Some enjoy both. That maps to my experience of how people end up enjoying games (and how they end up complaining about crunch or about other things).
Now, there are some odd gaps to this. Some of the other things that can trigger system 2 are emotional, and I'm not sure how the intersection of that and FEELINGS larps works into the model, but I also don't have a good model for those in general, so I just flag it and move on.
Anyway, I'm not sure if this is a useful perspective, but I definitely intend to try it out for a while and see how it goes.