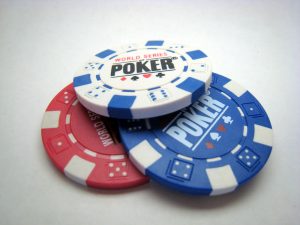 I've been running games a little bit for my 9 year old son lately, and it is forcing me to look more closely at a lot of my ideas around failure in play.  I am absolutely a believer in using failure as a tool to move things forward, and that well handled failure can make a game much more satisfying for everyone involved.
Then I tried to explain that to a 9 year old boy.
He gets the idea in theory, but in practice, he is super loss averse.  This is a challenge if we want to use any system that incorporates failure usefully, and that's what's gotten me thinking about a lot of things.
One of them was whether I could get him to buy into failure as an option.  I had a fruitful conversation about this on Twitter, and Morgan Ellis got me thinking about the utility of rewards for failure being good enough to make it intrinsically appealing.   Thinking that through led to a very simple system as follows.
Players starts with N (say, 10) white chips and 1 black chip.
GM has a supply of white, red and blue chips
When a player wants to make a declaration that something is true, it costs a chip.  White for small things, red for larger things, blue for big deals.
When a player faces a challenge (its own topic, roll with it), the GM lays out a poker chip.

Chip is white, red or blue, representing increasing degrees of significance
To proceed, player must also lay down a chip.  That chip is spent(lost).
Black chip is a concession. It always loses, but returns to the player.
If the player matches or exceed's the GM's chip, they win (whatever that means)
If the player fails, they gain the GM's chip
There's room for a lot more wrapped around this – specific mechanical things that red & blue chips can do, other ways to earn white chips and so on, but at its heart this is a failure engine, since failure is the only way to get red and blue chips, which are powerful and useful.  I'm curious how my son will react to it.
My fear (and my wife's expectation) is that the kid won't like it.  This would work great for players who have already bought into failure as awesome, but this isn't going to sell it.  There's a decent chance she's right, but the good news is that it's going to be very easy to test.