I've been talking a lot about how much I like 5e's advantage and disadvantage (adv/dis) rules[1] for how smoothly they flow from the fiction. It seems like a state that you can describe verbally or in text, and they simply have it reflected in the mechanics. It does not hurt that the die mechanic is nicely elegant, but it could just as easily be a +/–2 (the default modifier for winging it in past editions of D&D) or +/–1d6 or some other mechanic. That is, in fact, the point – the concept is clear but broad, so there is no mechanically correct answer, so the concept can be applied across multiple mechanics.
Thus, for example, the idea is easily translated to Dungeon World, replacing the +1/–1 forward rule. To echo the 5e mechanic, add an extra die to the roll if you're at an advantage, and drop the lowest. If you're at a disadvantage, do the same, but drop the highest. The math is a little bit different than +1/–1 (more like +/–1.5) but it feels pretty good.
The idea is a little bit tricker when you move to systems that produce less linear results. Consider, for example, the storyteller/storytelling system from White Wolf, or any similar. There's no real idea of a "negative" success, so adding dice to the roll for extra effects would just be weird, and adding them for a bonus would be pretty normal. You could just say that adv/dis is +/–3 dice, and that would probably work ok, but you also might look elsewhere in the system. For example, since success is on a 7+ on a d10, perhaps adv/dis changes that to a 6 or 8 respectively[2]. That's pretty potent, but it has the advantage of still producing results within the original curve, which is a heretofor unstated design goal.
Cortex solved this problem (under a different name) by effectively making adv/dis d4/d8. If you add a d8 to a roll, it's pretty likely to bring up your total. if you roll a d4, it's unlikely to improve the roll at all, and it's likely to roll a 1 (a bad thing).
It's interesting to me to be able to carry this concept across systems (for reasons which may merit their own post) so, of course, I wonder how this may be applied to Fate.
There's an instinct to head straight to the Aspects system, since it seems spiritually similar, but that sits wrong with me. The least interesting part of aspects, to my mind, is their bonus or penalty, and the fact that it stacks is already a complicating enough factor to my mind. However, if one really wanted, they could stop right here and just say that the situation causing advantage or disadvantage is reflected as an aspect, and that would work just fine.
But I like the adv/dis terminology, and I'm happy messing with the guts of Fate, so I think I'll mess with this a little.
Now, back in the day (pre-SOTC), the aspect bonus worked a little bit differently than it does today. Rather than a flat +2, it was "reroll or flip one die to a +", and that had a number of interesting implications. The first time you used an aspect it was probably going to change a – to a + (thus the +2) but after that, you were going to hit diminishing returns very quickly as you ran out of -'s and had to flip blanks (for a +1) and you'd cap out at ++++, no matter how many aspects you had.
I confess, I like this mechanic better in general – it rewards aspect use without rewarding huge aspect stacks. However, our SOTC playtesting largely determined that die flipping was a little bit too fiddly for most players. This made me sad – I like dice flipping – but sometimes you need to toss out a mechanic you like based on feedback.
I don't mention this because I'm looking to revive that mechanic, but because it's the general space my head is in, trying to get a bump within the curve of the dice rather than outside it. With that in mind, the first options that occour to me are:
Add a die, only count it if it's + or –
Add an extra die, remove one (high or low)
Remove a die (high or low)
I instinctively want to discard #1, since it introduces the possibility of a +5 or –5, and it also required keeping track of which die is the extra die. I might be willing to track die colors if there was a specific mechanic to hang off it, but for this, it seems frivolous.
2 and 3 both appeal. Adding in an extra die is a little bit weird in a Fate context, since it violates the usual "4 dice per player" rule, so that's a strike against. However, the action of adding a die is a bit of fun physical engagement, and allows it to be tossed in after the fact. Those might be a wash. In contrast. #3 is super easy to implement because you can just read it from the dice, but that's also not terribly engaging (especially when it doesn't actually impact the roll). So, when in doubt, let's do some math.
| # | Default | Bonus Die | Drop Worst |
| --- | --- | --- | --- |
| –4 | 1.24% | 0.40% | 0.00% |
| –3 | 4.94% | 2.04% | 1.23% |
| –3 | 12.35% | 6.19% | 4.94% |
| –1 | 19.75% | 12.27% | 12.33% |
| 0 | 23.44% | 18.96% | 20.95% |
| 1 | 19.76% | 22.64% | 27.18% |
| 2 | 12.34% | 20.59% | 22.25% |
| 3 | 4.95% | 12.36% | 9.86% |
| 4 | 1.24% | 4.54% | 1.25% |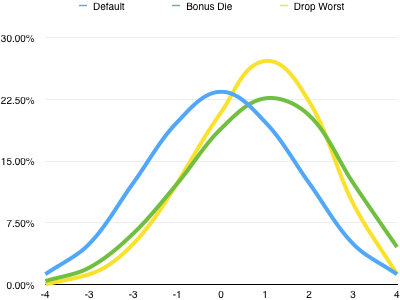 Looking at those numbers, I admit I'm leaning towards "drop worst". The fact that +4 is no more likely (really, identically likely, but I suspect there's a rounding error at work) is a plus, though in all honestly, that is a fine point that gets steamrolled by aspect invocation (a fact I will give some consideration to later). Given the impact of aspects, the somewhat smoother curve of "add a die, drop worst" might make more sense.
For the moment, I break the tie in favor of "drop worst" because it requires no extra dice, but I'll be chewing on it for a little bit.
---
: if you're unfamiliar. in 5e you usually roll a d20 to do things. If you're at an advantage, you roll 2d20, and read the better one. if you're at a disadvantage, you roll 2d20 and read the lesser one.  ↩
This same trick won't work as well for success counting with smaller dice. In a well tuned game like Burning Wheel, that shift may simply be too big.  ↩