Success at a cost is one of my favorite mechanics. The -World games are the poster child for it at the moment, it's something I first encountered in John Harper's[1] Talislanta design, which includes partial success in its outcome ladder. The idea is older than that, of course, but like all such things, there's an evolution to it.
In many ways, the evolution becomes more obvious when you think about things in terms of cost. A lot of games have (implicitly or explicitly) the idea of there being a cost associated with success, even if that cost is as mundane as an expenditure of resources. This is true on an action level, but also on a more abstract level – consider that this is ultimately the metagame surrounding the average dungeon crawl – ablation of resources over the course of an adventure can be viewed as an extensive cost-benefit analysis equation.
Yes, that's kind of bloodless, but that's usually because it's fairly bloodless costs. The reason that we think of -World partial successes as something different is because they are explicitly interesting costs (rather than costs based on utility). And that difference points to some fun design space – cost is often an engine to convert between utility and fun (hopefully in the direction of fun).
Fate has a fun hook in for this in the form of consequences. There are a few hacks out there which allow for the pre-emptive spending of consequences for bonuses, and it's an idea I enjoy a lot, but it's also just the tip of the iceberg. As is, Fate runs into a bit of weirdness with success with consequences.
Note, this is not a flaw. Fate embraces the idea of "Failing Forward", so by and large it folds the idea of success with consequence into the definition of failure, rather than making it an interim step between failure and success. That solves a very different problem than partial success do, but they're complimentary technologies. Fate's approach is all about teaching fruitful failure, the -World approach is all about interesting success. If you can get your hands around both these ideas, then the mechanics become almost irrelevant – you can make a coin flip fun.
But until you get to that point, it's still a fun mechanical space to play around with, and I've been pondering something that looks like this: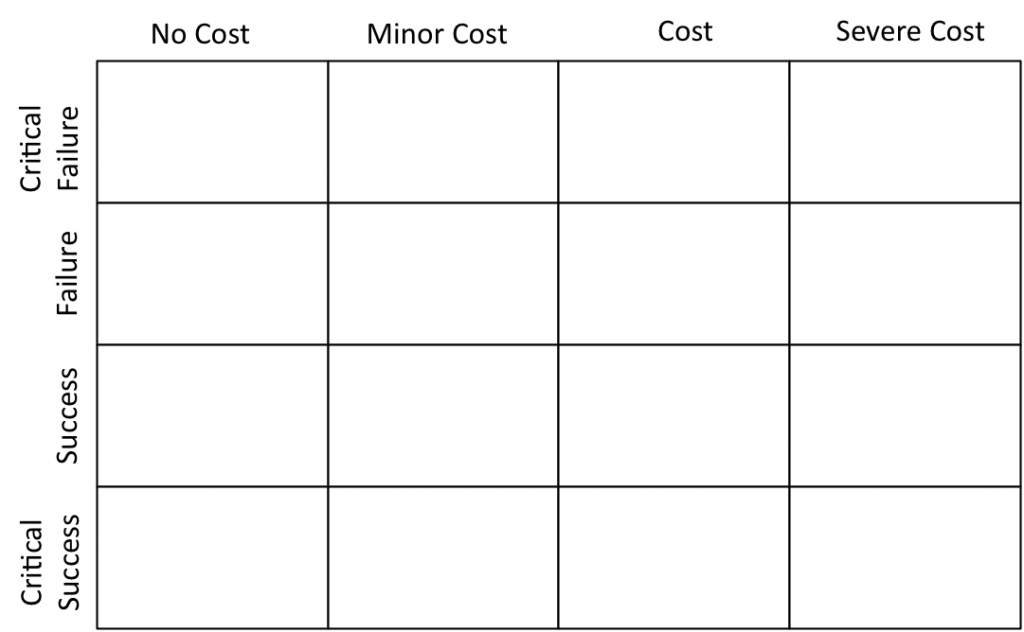 I was struck by the idea of different tiers of costs paired with a bit of -world thinking. That is to say, imagine that a success costs 0 points for an outcome outside of your control (critical failure), 1 point for expected failure, 2 points for success, 4 points for critical success. You generate some number of points with your roll (whatever system that is) and you can increase those points at a small (1 point), medium (2 points) or great (4 points) cost. Don't get too hung up on the exact costs – it's the idea that matters.
The key here is that you can insert costs into either success or failure. That part is definitely best of both world, but the trade off is that it's a bit clunky. I'm not sure whit would work as a mechanic so much as a conceptual tool, to identify how a given roll could actually produce a variety of outcomes.
No specific outcome of these thoughts yet, just something to kick around.