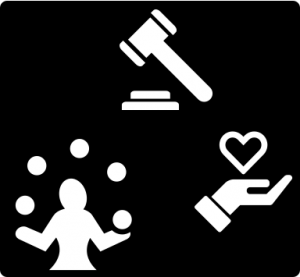 Saw another thing about the magic of GMless play the other day, and my response is largely what it always is: I think it's nice, but it doesn't really excite me.
To be clear, that's not a criticism, it's just a statement of taste. Games like Microscope and Fiasco are great, and can absolutely be fun to play. But they don't scratch any particular itch for me. I enjoy them when I play them, but don't necessarily seek them out. And there's no harm in that – our tastes are not uniform, and it would kind of suck if they were.
But this is on my mind because a comment on my Santorini post cut right to the heart of one of the biggest challenges to a "pick up and play" RPG – the GM. There are decent tricks and tools for getting players ramped up very quickly, but the idea of going from zero to GM seems much more daunting.
One of the solutions to this is, of course, GMless play.
It seems like a no brainer. Cut the Gordian knot and remove the problem entirely. I have to respect a solution like that. And more, I acknowledge that for certain games (particularly those that unfold in a procedural manner) it can probably work really well. For these games, there is probably a lot to be said for looking at the kinds of things that companies like Stronghold Games are doing with making games with no rulebook, but which instead make teaching the game and emergent part of the gameplay.[1]
But it's also a bit of a cheat, depending on the job you think the GM has. Critically, the GM is often the subject matter expert on the game in question. Obviously, this may not be the case for established tables, but we're talking new players and new games here. In this case, the problem we encounter is that the GM's lack of expertise is the thing we need to replace. That may not seem like a big deal until you consider that many GMless games skirt this problem by including a "facilitator" role.
This is not a bad thing: Every game is more easily learned and played when someone at the table is a familiar with it, so making space for that person is good design. But since we're explicitly talking about picking up a game quickly, that option isn't available to us. This doesn't remove GMless games as a solution, but it means they're in the same boat with everything else – looking at the question of how to convey what's necessary in a playable fashion.
So, we've lost the silver bullet, but it's highlighted something very useful. If we're not going GMless, what does that mean?
People have a lot of answers to that question. I could fill pages with the differing interpretations of what a GM can and should be[2]. Hell, half the reason I shrug at the argument for GMless play is that they often rest on definitions of GM driven play which are very different than my experience or taste.
I can't pretend to offer a comprehensive list of GM roles, but I do want to focus on what I consider the big 3, authority, entertainer and enabler.
The GM as authority is the expert on and boss of the game. She makes the choices about the game, enforces and interprets the rules, implements rule zero(or doesn't) and is generally in charge. There is a lot of potential nuance around where that authority comes from, but the role is pretty simple. The advantages of this role is that it keeps things going and provides clarity for everyone at the table. The disadvantages are that this is a SUPER abusable dynamic, and a lot of game horror stories come from it going awry.[3]
The GM as entertainer is one that we tend to both ignore and take for granted. Classically, the idea is that the GM is generating (or using existing) content for the players to bounce off of and have a fun time. For many GMs, this is the best part. It's an outlet for their creativity which they delight in sharing. They delight in it so much that we tend to overlook that this is work. This becomes relevant when we talk about new players – this is a hard role to step into from zero.
The GM as enabler (which sounds less weird than "servant", the term I actually use in my head) is there to help the players along to the thing they want. I think of this as the most important role, since it is most closely tied to the table's fun, but it's also a tricky one. To do it successfully requires understanding what the table wants enabled, which is sometimes murky. Classically, we also have a problem with this role because it is the least well supported in our games and history.
EDIT:  in comments, Fred suggests celebrant as a better name for this, and he is 100% right.  Not only is it less weird, it also allows all three roles to be nouns (authority, entertainment and celebration) much more easily.  As such, that's the term I'll be using form now on. 
Now, these roles can be complimentary or contradictory from game to game and table to table. A GM might have strong authority and great entertainer skills while ignoring enabler responsibilities entirely, and her table might have an amazing time. Another GM might not entertain at all, but run a tight (authority), player-focused(enabler) game that everyone enjoys. There are many paths to a great game, and no one right route.
But I mention them in this context because it occurs to me that perhaps the trick may be to stop short of going GMless, and instead opt to explicitly narrow the GM's role to something smaller and more specific.
The raw form this took when it popped into my head was "hey, what if the GM wasn't tasked with coming up with content, but instead was just expected to learn some tools for helping players do cool things?". I'd now restate that as "ok, can we teach the enabler role out of a box?", and the thing is, i think we can.
In fact, I think we could teach any of those roles out of the box. The problem only becomes daunting when you try to teach more than one of them.
So now I find myself thinking about the differences in how i would teach those roles, and it highlights one more key point: you are under no obligation to stop at one role. I mean, feel free to do so – if you want to design your game so the GM's role is pure enabler, then feel free. Just make sure you figure out how to make it fun for the GM.
But you can just as easily start from one role as the one to learn out of the box. And just as players will gain mastery and depth, so too can the GM. Other roles and responsibilities can be layer on after that first session of play has hooked them and left them hungry for more. THAT is when you can start laying it on thick.
Not sure if this helps anyone but me, but I am definitely feeling a step closer to a workable model here.
1 – Though this sounds great on paper, the one downside I've found to this approach is that I've only seen it work for fairly simple games. The idea is a good one, but I am not yet sure how it scales.
2 – But here's one crazy one: it is pretty dumb that we treat the role of GM as the same from game to game rather than a function of each game-as written and game-as-played.
3 – This does not make it all bad. A table can knowingly grant someone authority because they trust them to make it worthwhile, and that combination of authority and trust can make for AMAZING play. But that takes a lot of work, and it not for everyone, which is fine. But I want to mention it because for many people, GM authority is automatically toxic, and I disagree with that notion pretty strongly.