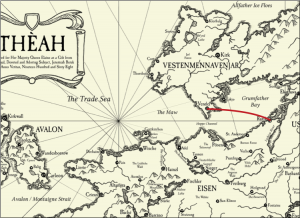 So, first Full session of 7th Sea was Saturday night.  It went pretty well, though I'm still juggling some system mastery concern.  
The characters are:
The Captain: A large Avalonian man possessed of superhuman luck
The Swordsman: Once a bodyguard of the Hierophant, then a failed seeker of revenge, now he is a very dangerous drunk.
The Professor: A Vesten woman serving as axe-wielding accountant and quartermaster working on a theory of economics.
The Acrobat: A Vodacce fate witch who hid her talents in the circus, but has been forced to flee her home.
The plot was simple and classic – they were in port at Vesten, but near broke. They approached The Professor's Patron (Guildmaster of Usury) for a loan to take advantage of a tip she had on wood prices in Rurik.  They met in a coffeehouse (of course) and the Guildmaster took the opportunity to play chess with The Captain (who lost well), and the Guildmaster made an offer: She would cut them a loan at no interest in return for them delivering unspecified cargo from Rurik back to Vendel.  They, of course, agreed, took the loan, bought two shipments of Wood and set sail.
They managed to avoid trouble on the trip over, though the winds were unfavorable – what should have been a 3 or 4 day trip took 6, but that was still in bounds.  They sould off their cargo, turning a very solid profit – between the tip and the Professor's skills, they doubled their money.
Their contact for the Guildmaster's delivery was a veiled lady, accompanied by an obvious duellist and half a ton of war dogs. They had a very civilized afternoon tea while she got a read on them (and to a lesser extent, they got a read on her)  before they took possession of a mysterious chest. The Acrobat saw to it that the transportation back to the ship was well-concealed, as no one noticed one more wagon of produce going through Rurik.  
All was going well, except the Acrobat had also been contacted by The Daughters of Sophia, who needed someone smuggled to Vendel. She met up with them, and arranged for the young lady to meet the crew at a bar near the docks.
Things went a little wrong there.  The Acrobat paid a drunk to make some ruckus when the lady arrived, but left the details unspecified (which pinged her Hubris).  When she arrived and lowered her hood, The Captain was utterly smitten (his Hubris), the Professor was distracted by a discussion of currency policy (not technically her Hubris, but close enough) and the drunk grabbed the lady and started dancing with her, forcing The Swordsman to step up to her defense.
Which meant no one was watching when a couple of guys knocked The Acrobat over the head, threw her in a sack and dragged her away.  When they realized she was missing, they rushed the lady back to the ship and prepared to go looking for her. Well, everyone except THe Captain.  He had to make sure she was ok. Possibly over wine.
Meanwhile, The Acrobat came too as she was tossed into a carriage. She used a hidden knife to cut free, but discovered she was under close scrutiny by two thugs and a Vodacce gentleman who was very clearly their boss. The boss seemed upset at the thugs for grabbing the wrong woman, but they protested that they had grabbed a small Vodacce woman.  Dripping with false remorse, he pressed The Acrobat for information about "his wife", but seemed to accept her denials and released her back near the bar.
And so it was that she was returning to the ship as the search party came out, and when they met, the Vodacce gentleman and his band of thugs emerged from the shadows, intent to board the ship and reclaim the woman.  Naturally, this lead to violence.
The Swordsman and The Vodacce Gentleman flashed their swordsman pins and opted to fight as gentlemen while he ordered his thugs to deal with the rest of the rabble. They fought for a time, with both taking fairly severe wounds. Meanwhile, there was a reminder that while the professor may be an economist, she is a VIKING economist. One of the Brute squads was reduced to a pulpy mass in short order, and another terrified into retreating.  Meanwhile The Acrobat split her attention between the brutes and manipulating the strands of fate surrounding the fight.  The captain also emerged and pitched in with violence and luck.
Matters ended somewhat inconclusively, as the newly-cowardly (thanks to Sorte) Vodacce Gentleman retreated with the remainder of his men, and The Captain deemed that the number of the bodies suggested that a hasty retreat was in order.  There was some resistance from the crew to a late-night departure (leading to a conflict between a crewman and The Swordsman), but The Captain made it clear this was not subject to debate, and they made a night departure.
Yet despite that, when dawn rose, there was a ship on their tail.  Inconceivable!  Unless they had been trailing debris, which explained the absences in the stores The Professor had noted.   Rather than test a tail chase, the captain ordered the ship turn towards the dangerous and foggy shore, taking a highly risky route in hopes the pursuer would not follow.
This forced the betrayer (the same who had argued with The Swordmaster) to attempt to flee in a launch with the cargo. The Acrobat spotted him,  The swordsman pursued (and resolved the matter decisively), but was now in a launch that was not attached to the ship. Thankfully,  The professor lept with a rope and managed to secure the launch before they had gone to far.   The pursuer, meanwhile, was not as nimble as The Gates, and fell behind.  The rest of the trip to Vendel was uneventful, save for the interrogation and execution of the mutineer.
Upon returning to Vendel, they delivered their cargo and tried to sell the furs they'd bought in Rurik, but they did not get a very good price for them, and after paying back the loan, paying the crew and performing maintenance on the ship, they ended up having exactly broken even.
Notes:
We have 2 Sorcerers, 1 Duelist and one non-of-the-above. This is proving a really interesting spread to test out the length and breadth of the game.  

Notably, the sorcerer's are much more Hero Point hungry than the non-sorcerers.  Curiously, Our Duelist probably generates the most Hero Points, but also needs them least, so he helps a lot.

That point when The Acrobat got kidnapped may have had all the earmarks of a GM force, because it did, but it's a little more interesting than that because I had the player's permission going into it. She had a two point story queued up, the stages were "Get captured" and "Free myself", so I was responding to her invitation.  It made for a much nicer dynamic this way.

When she got away, I presented the risks as follows: There's an opportunity to distract him and dive out the door of the moving carriage, but that will come with 2 wounds that you'd also need to mitigate. Alternately, 1 raise and he's not sure if you're lying.  2 raises and he seems to believe you. 3 raises and he *actually* believes you.  She got 2 raises.

I am going to need to generate a *lot* of reference sheets for this.  The core rules are super simple, but things like keeping track of what each sorcery does (because they all behave differently), the various dueling maneuvers, the Arcana (because we have a fate witch), plus the Hubris, Virtue, Story and Quirks of every character. Oh, and maps.  Flipping through the book for all this was SUPER awkward, so I'm going to need to figure out how to condense things into a tight match.

Holy *crap* the GM's ability to spend a Danger Point to make raises cost 15 rather than 10? That is, SUPER nasty, and really needs to come with a warning label.  Outside of a scene, it's a good way to convey "This is hard", and I'm ok with that, but in a fight scene? Can really hurt.

Two duelists with similar weapon skills going at it involves a *lot* of negation.  It was not hard for them to fall into an alternating slash/bash cadence, which makes the fight very nickel and dime. It only sped up when I opted for the bad guy to risk a lunge (to which the appropriate response is also a lunge).

I frequently found myself thinking "I really want this to be a difficulty 3, and I'll shape the response based on how close they get" but that's on the way it should be done. I am working on ways to think about difficulty:

One approach is very much "Success, but…".  1 Raise gets you success with one or more consequences, and successive raises mitigate those consequences. Using the same kind of thinking that helps come up with good moves can help here.

When the players are looking for information, my instinct is to say "One fact per raise", and there are situations where that works ok (albeit as a little bit of a boring risk), but I've found it works fairly well if you use an

elimination

approach. That is, when The Acrobat was trying to spot the traitor, I said "Ok, there are 5 people who might look suspicious. Each raise will let you eliminate one".  That felt a lot better.

I am not satisfied with how I offer opportunities yet, partly because they serve two sometimes conflicting rolls.  On one hand, they're

bonuses

, things you can pick up with an awesome roll. On the other hand, they're

temptations

– reasons you might mitigate your own success to grab a cookie. A lot of time, an Opportunity that is really good in one role may not fit for the other. Not sure if that's a structural problem or just a drawback in how I think about them, but I definitely need to chew on this a little more.

The roll by The Acrobat in the carriage was a weird one because I explicitly offered a branching choice in that via Opportunities.  I'm not sure that's strictly legal, but I'll probably toy with it more.

I am tempted to prime the pump with opportunities. Figure out things that might appeal to players or take things in cool directions and just have them in my pocket, waiting for a chance to offer them as opportunities. It's an area where light prep may save some headaches.

We used my house rules for trading and travel and they worked pretty well.  I made a very small tweak to allow for more chances to roll the dice, and I'll probably add that in, but otherwise it held up very well.

I spent a fair amount of time before the game trying to figure out how fast ships traveled in Theah. The real answer is: it's complicated – wind and currents and seasons and complicated cull-to-sail math all play into this.  At some point, I'm going to map the winds of Theah so I can get super nerdy, but in the meantime, I settled on a rule of thumb – 9 knots is a pretty good clip for a sailing ship, and it's about 10mph, so it makes for easy math.  So the VERY simple navigation rules are:

Assume your ship will go 10mph under optimal conditions (and remember, it moves 24 hours a day, so ~240 miles).

Every Journey has 3-5 risks (maybe more), which might be things like:

Unkind Winds (-2mph, can be taken many time)

Rough Seas (ship takes 2 hits)

Spoilage/pilferage (lose a point of cargo)

Sickness (lose a point of crew)

Danger! (Catch the attention of pirates or similar)

Interdiction (Get stopped by a patrol boat. Lose a day, possibly other consequences)

Misdirection (End up off course by some amount)

Each raise on the Sailing risk can mitigate one of these

If you support the idea that different ships have different speeds, you can use these rules, just start from a different baseline than 10mph

The Captain has invested heavily in Mad Luck, and I think that's going to be *terrifying*.

I need to figure out what to do with Lashes that are still in effect at the end of a session. The player can dump them relatively safely when all is done, and it seems untoward if the GM could just hold onto all those Danger Points between sessions, but seems cheap if they don't.  But the alternative seems to take some to the tooth away from Sorte.  I think I need to read the chapter again, build my cheatsheet, then see if anything springs to mind.

My players are conspiring to try to convince me to buy more dice from them, which suggests I need to spend my Danger Points more liberally.  I can only remind them to be careful of what you wish for.

I am regretting the absence of a "wildcard" skill, and may end up adding one in my game.  For the unfamiliar, this is an idea stolen from Eden's Cinematic Unisystem – the skill list included one skill that was just a blank line, with the expectation that if there was some skill that *really* mattered to a particular character but wasn't really relevant to the game as a whole, it could just get added there.  "Merchant" might be a good example in 7th Sea – not really relevant for most games, but for a character like the professor, it's pretty relevant.
I still need to come up with a name for this campaign.