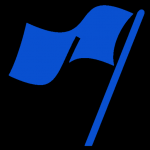 Random bit of Dungeon World tech, inspired by a brilliant idea from Judd Karlman's 1st Quest.
When playing with a changing cast of characters, the bond list gets torn to tatters pretty fast. You can address this by adding more bonds, or creating temporary bonds, but that gets kind of clunky as things shift. So with that in mind, here's another possible solution: Invert the problem
Replace Bonds with Flags (or if you prefer, Buttons) – Flags are behaviors that other players enable, ideally ones that really emphasize elements of your character as you envision them. So, if you envision your character as gullible, then the flag might be "Tell me a lie that I beleive". If you envision your Paladin as righteous, then the flag might be "Offer me an easier solution that cuts corners I am unwilling to cut"
Now, when we play a game and we come to a guard post, my thief can propose that we bribe the guard. The paladin gets all paladin-y about its, and insists they proceed honorable. The thief has effectively hit the Paladin's flag, and at the end of the session, she gets an XP in the same way that she would if she'd had a bond like "I will offer the paladin solutions that woudl simplyfy the problems if he woudl just lighten up".
OPTIONAL RULE: You can actually get more generous with the XP for flags, and given them to both players. This even allows multiple players to get in on the act, so if the ranger hits the Paladin's flag later in the session, at session end, the thief, ranger and paladin all get one XP (Paladiin still gets only 1 – it only matters that it came up, not how often it came up). If you do this, I would suggest that 6- results stop giving XP and instead give some other currency, or just accept that characters are going to level faster.
This will require coming up with a list of flags, and helping players customize them. Every character should probably have 2 flags, though if you want to give bond-heavy classes like Bards 3, knock yourself out. The flags themselves will need a few things:
They must have a clearly identifiable action (So they can't be judged by effect – "Make my wizard feel bad" is a poor flag. "Refuse my wizard's aid because he's a foreigner" works well)
They must create some sort of conflict or tension, usually reflected by a choice. There must be a legitimate alternative. "Attempt to poison me so I can notice it" is pretty bad, because there's no reason to "not" notice it. If there is not a choice, the action itself must be something that could complicate things. "Call me bob" is a poor flag. 🙂
They should give me an opportunity to show off something about my character that I might not otherwise have the chance to do so.
A few possible flags
Gullible – Tell me a lie I believe
Liar – Believe and act on a lie I've told you
Righteous – Offer me an easier solution I must refuse on principle.
Outsider – Refuse my aid because I'm different
Leader – Allow me to make a decision so you can criticize it.
Heroic – Let me keep you from going first into danger so I can go myself