There is already a lot of great advice out there as we go into con season. Hopefully you've internalized a lot of it already, especially the necessity of eating, bathing and sleeping.[1] But there are other things that can help you out, especially if you don't travel a lot. I know that for me, conventions were my first real reason to start using hotels rather than crashing with friends. I'm not much of a business traveller, but I've picked up a few things out of necessity, and I figured I'd share.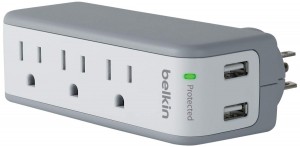 First, pack a power strip. This is one of those things which is absolutely common sense once you start doing it, but if you haven't done it, and you have tried to figure out how to charge your various devices in a hotel room, then you understand the need. I use one of these because it also has USB ports, which reduces the number of adapters I need to carry. One warning: if you have an iPad or similarly large device, make sure the USB ports are 2.1 amp, otherwise it will pretty much never charge.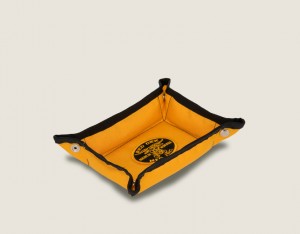 Second, get a travel tray. This is a category of item that I didn't even realize existed, but I am so glad I found it. It is, basically, a crap bucket – a place to put all the stuff rom your pockets at the end of the day without it all wandering around the room. Most of them pack flat, and just fold up into tray form when you need them, though some (like the Tom Bihn version) double as storage, which is kind of cool.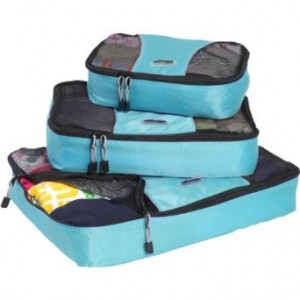 The value of the travel tray is probably obvious, but the next thing may not be: Packing Cubes[2]. It used to be these were a rare item that only business travelers knew about, but they've gotten a bit more mainstream. If you haven't used them, they seem counterintuitive – pack your stuff into containers, then pack it into a bag? MADNESS!
But if you talk with anyone who uses them (like me) you will discover that they help you pack more efficiently, make unpacking and living out of a suitcase much easier, and just generally improve the travel experience. If you're skeptical (and I was) check out this video for a sense of how to use them.
This last thing is a little crude, but please bear with me. If you go to a convention, odds are good you are sharing a room with other people. This, combined with convention food and other issues means that the bathroom of your hotel room may be something of a danger zone. For years, I've tried to take steps to minimize this – I always pack gas-x and a small bottle of lysol or equivalent – but this year I have a secret weapon: Poo-pourri.
Yes, that stuff. With the video.[3]
Amazon carries it in a variety of scents in case Lavender is insufficiently manly for you, and I will swear – this stuff works. It works remarkably well. I am pretty confident my roommate will thank me for it.
So, those are a few of my tricks to make the trip a little bit more sane. Anyone out there have any con travel tips they want to add.
---
And, of course, bringing a good con bag.  ↩
This is actually a shorthand for pouches, cubes and other sorts of subcompartment.  ↩
If you haven't watched the video it's kind of hilarious, but if you have, then you know what I mean.  ↩