I enjoy the webcomic xkcd, but it occasionally gets on my nerves with its nerd one-upmanship. This is not a huge deal because, hey, it's a nerd comic, you need to expect a certain amount of that. But there was a math uber alles one that sort of stuck in my craw for a while which I've now found peace with.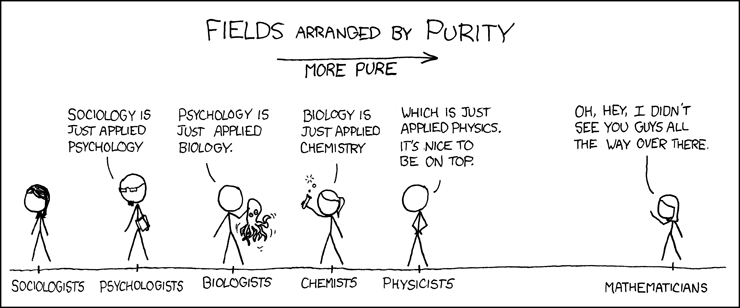 See, the bit I'd never realized[1] (and which I don't know if even the author has thought about) is that there's something not shown here, something which is only implied but which puts this in context. There's one other person here, one we're not seeing a little stick figure of, and that's the storyteller. That may seem a hokey term, so feel free to swap in writer or artist or whatever you like, but I'll stick with storyteller because I think that speaks to the heart of it: someone took this stuff, and made it say something.
None of this is meant as a sleight against any particular field. Storytelling is as much a part of math as it is cooking, politics or any other endeavor. None of them work without creating stories. Once you get past the abstracts and start talking about how an individual person understands things, that understanding takes the form of stories. Cause an effect is a story. The process for making things is a story. These stories may be boring or short, and they may violate every dramatic rule that we like to apply to fiction, but whatever form they take, they're how we see the world because we cannot actually perceive truth.[2]
Marketers, politicians and people in power know this, and have for a good long time. When you hear someone talking about spin or controlling the narrative, they're talking about the importance of stories. They're looking at a pile of stuff and trying to figure out how to turn it into a story that is compelling enough for people to buy into yet which serves their interests. Other people will look at the stuff and create different stories. Once these stories are out in the wild, they'll fight among themselves until one becomes 'true'. Even if some people still seek to look at the stuff, for most people the story is all that's going to matter.
There are examples of this everywhere. Literally, everywhere. Get up, walk around and look at a dozen things and tell yourself about them. Look at what you tell yourself, and stop and consider how much of that is a story. And here we come to the tough part.
As overwhelmingly powerful as this idea is, its a very difficult one to discuss in the wild. While almost anything can be used as evidence of it, actually doing so is going to risk the wrath of people who have bought that particular story.[3] The topic then becomes about the particular story rather than stories in general, and that's useless. So I'm going to risk it here, but be warned that I don't care much about the specific stories except as illustration.
As I write this, there's a bunch of oil spilling out of a pipe from an exploded oil rig in the Gulf of Mexico. While people are rushing to deal with the physical problems this represents, there is currently a kung-fu fight of epic proportions over the narrative of what all this means. BP, the company leasing the rig and the public face on this, wants the narrative to be about how responsive they've been and how they've kept this under control. Proponents of offshore drilling want to come up with a story that acknowledges this as bad but not something to reflect on offshore drilling in general. Opponents of offshore drilling want this story to be apocalyptic.
None of this even touches on smaller stories, like whose fault it is, or whether liberal commandos blew it up to discredit Obama's opening of offshore drilling.[4] Look at the responses from the gulf Governors, most of which are prepared for disaster, one of which is insisting nothing's wrong. Neither group can say they know what will happen, but each is positioning itself for the story they think is coming.
That's the real trick. You never can see the story mid-stream: story is only created after the fact. But it doesn't just happen – or rather, it doesn't just happen unless no one steps up. Stories are a lot like wet cement. While the events are happening, they're fluid and manipulable, but as time goes on and the story starts becoming more established, it gets harder and harder to change. For all the weaknesses of a 24 hour news cycle, the one strength is that we get to see the cement before it hardens, which means that the ultimate story can be created by anyone who can build something compelling enough.
As proof of this, look at the recent financial crisis. There has not been any single story more important than This American Life's Giant Pool of Money. Even if you haven't heard it, the people you've listened to have, and their stories have been shaped by it. This is not because it introduced new information, because NPR[5] has some special insight or because it shocked us in some way. It's because they told the story of the financial crisis so well that it could not be ignored.
And this is where I come back to gaming. If you game (or write, or create) then you live in the world of stories every day. Some people characterize that as escapist, but I like to think of it as boot camp for the real world. And by the real world, I mean the world of stories.
Power, influence and change have always come from stories, whether it was the story of the divine right of kings or the story of the founding fathers. Historically, those stories have been in the hands of only a few people, transmitted slowly and changing rarely. By the time they got to anyone else, they had already been told. Most people's stories were about getting them through the next week or next winter, and on those occasions when they were in a position to see these other stories, they were rarely in a position to change them, save under the most dramatic of circumstances.
But that's changed. If you're reading this, you're in a position to take advantage of that change. Stories travel fast now, reaching us before they've fully formed, and all the stories of the past are spread out before us, awaiting a critical eye. For better or for worse, the firmer your grasp on stories, the more you can do. This is not merely for novelists or screenwriters, it's something that can matter in every conversation and blog post, or even around your office. If you can see the world of stories, know the story you tell when you do everything from buy cereal to go to college, you can make a difference.
There's a cynical instinct to suggest that this is all about appearances, but that misses the key point, a point that makes gamers uniquely equipped to face this new reality. See, this is not about YOUR story, it's about everyone else's story. The story you tell yourself is compelling only to you. If you want your story to really work, it needs to be compelling for other people. You need to see the story they see.
So with all this in mind, a hobby that is all about extracting story from events and shifting perspective from yourself to someone else sounds like exactly the kind of training one might want to have.
1 – Other than the fact that Liberal Arts continue to get a bad rap
2 – If the instinctive response to this is that Math Is Truth, then we have a disconnect that's not worth arguing about. Really, that's true of any X Is Truth response, but mathematicians and fundamentalists are usually the only ones you really have to worry about it from.
3 – And I note, we ALL buy into stories – we need to, otherwise we become paralyzed an incapable of doing anything. The fact that someone has bought into a story does not make them irrational or unreasonable.
4 – Yes, it's been proposed, and it's a great illustration of something important. The fact that a story is crazy doesn't necessarily make it a bad story. Stuff like this can be sticky.
5 – Radio is an underestimated medium, whatever your political party. It is easy to dismiss NPR or conservative talk radio (especially whichever group you disagree with) but radio is such a limited medium that it demands the mastery of stories because it can't compensate for their absence with sleight of hand. Successful radio personalities craft compelling narratives; that's what makes them successful. Even if you don't like their stories (or if you conflate their stories with truth), they're worth paying attention to if you want to see how they do it.